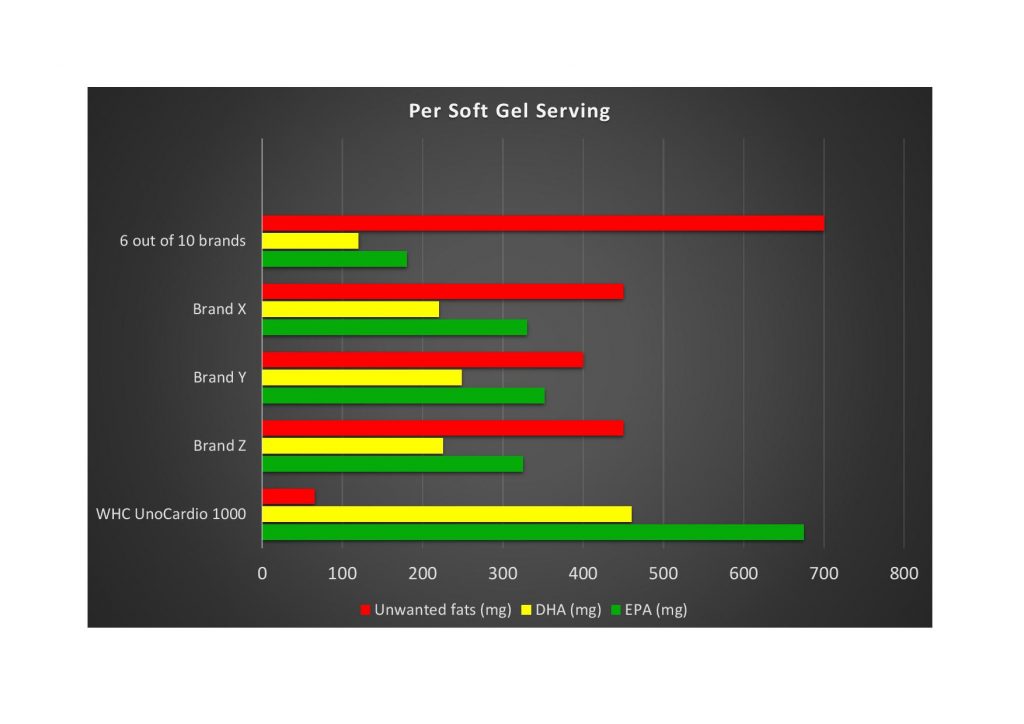 July 6, 2017
Quality products are the pride to a maker's workmanship and labels are supposed to be windows to a product, bringing assurance and promises of quality to consumers. However, many product labels have distracting information and fish oil soft gels may not be filled to the brim with goodness as expected.
EPA/DHA content
The two specific types of omega-3 fatty acids essential for optimal heart, brain and eye health is docosahexaenoic acid (DHA), and eicosapentanoic acid (EPA). The most popular dosage for fish oil is 1000 mg. It's a common assumption that one is getting 1000 mg of omega-3 fatty acids per soft gel, but this is untrue. A closer look at the labels may reveal only 300 mg of the metabolically active ingredients – 180mg EPA + 120mg DHA.
6 out of 10 brand labels we examined contain only 30% of the beneficial EPA and DHA, with the majority of the remaining 70% unaccounted for. One can only assume the 70% is neither EPA nor DHA for sure. Fillers and vegetable oils found in fish oil supplements have not been unheard of.
3 other brands contain slightly higher EPA/DHA, ranging from 55 to 60%.
WHC UnoCardio 1000 contains 95% EPA/DHA, with the remaining 5% as other omega-3 fatty acids.
Do inspect the product label for a complete picture of EPA, DHA and unwanted oils in each dose. At a glance, some brands' EPA/DHA content looks higher than their competitors but manufacturers may list the ingredients per soft gel or for multiple soft gels. Be sure to note the serving size – for a 1000 mg dose, some brands actually require 2 to 4 soft gels.
Just ONE soft gel of WHC UnoCardio 1000 gives you 675mg EPA and 460mg DHA.