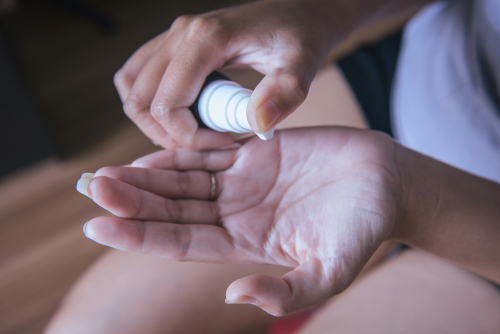 December 8, 2017
Waterless, antibacterial cleansers

These often contain ingredients like rubbing alcohol and solvents that are harsh on your hands, upsetting your skin especially during flare-ups. Go for mild, fragrance-free and soap-free cleansers instead, and always blot dry and slather on your moisturizer generously immediately after washing.

Rubber/latex gloves

More often than not, the culprit is not latex but the chemical additives commonly used in the manufacture of these gloves. Choose cotton gloves instead if you are doing dry work and hypoallergenic vinyl gloves if you are working with food or water. If your cotton gloves get uncomfortable in warm weather, you can consider cutting the tips off if your fingertips aren't affected by eczema. Lastly, be sure to wash the soiled gloves using fragrance-free and dye-free detergent.

Quick changes in temperature brought about by exercise can bring on the dreaded skin flare and itch. Furthermore, the loss of fluids during exercise dehydrates the skin, and the sodium deposited from sweat may worsen the irritation. Drinking water helps by keeping the body and skin hydrated. Light, loose and breathable clothing can help the body cool down, preventing flares and itch brought about by heat. Fabrics that don't rub or scratch the skin during exercise may be ideal and cotton may be the best bet. Some are more sensitive towards synthetic fabrics like polyester and Spandex especially when they wrap tightly around the waistline, neckline or cuffs. In such cases, it is best to avoid them. Ultimately, find what works best for you and what your skin feels most comfortable with.

Water-based lotions or moisturizers

The more water there is in a lotion or moisturizer, the more likely it is to worsen your hand eczema. Moisturizers containing more water than oil can dry out the skin after application as the water from the product evaporates, worsening the condition. A heavy ointment with a higher oil to water ratio will be much more effective in relieving the dry, chapped skin on your hands a water-based moisturizer.

Many will be tempted to take a hot bath or shower after exercise to relax the muscles. However, sudden changes in temperature can upset sensitive skin. If you have eczema, it is best to start with a warm shower and gradually make the water cooler over minutes and in stages to avoid giving your sensitive skin a shock.

Unprotected skin under the sun

Sun rays can inflame unprotected skin and lead to an eczema flare. But this doesn't mean you need to avoid or be paranoid about the sun. To enjoy activities comfortably under the sun, choose the right sunscreen with the appropriate coverage and the right ingredients. Also, be sure to follow the application and reapplication directions diligently while under the sun. Mineral sunscreens containing zinc oxide are better for sensitive skin than the chemical versions. Remember, sunscreens should be applied 30 minutes before sun exposure and reapplied after every 2 hours.

Stress and lack of sleep

Anxiety and stress can make eczema worse. When you're tense, your body release hormones in response to the stress. These hormones reduce your immunity and can bring on inflammatory responses, including skin flares. Even physical stress, like a cold, can take a toll on your sensitive skin, provoking flares and itch. So take good care of yourself and make it a habit to get enough sleep.
Lastly, continue all of the protective measures that have been working for you for at least four months after your eczema has settled. This is because your skin will remain sensitive to irritation for a long time after it appears to have fully healed.